Today, Vivo has officially announced that the Vivo's next-generation smartphone- Vivo APEX 2020 Concept phone will be launched in China on 28th February at 11:00 AM local time.
Firstly, The APEX series smartphone was exhibited at MWC 2018 event by Vivo and the company was unveiled the APEX 2019 concept phone last year with unibody 3D design without ports/buttons. It was the first, nearly bezel-less smartphone with a motorized pop-up selfie camera.
This year Vivo was scheduled to introduce the APEX 2020 concept phone at its Mobile World Congress(MWC ) 2020 event in Barcelona, But the GSMA canceled the event due to concerns related to coronavirus.
So, Vivo has now announced that it will launch its new next-generation APEX 2020 concept phone on February 28th in Beijing, China.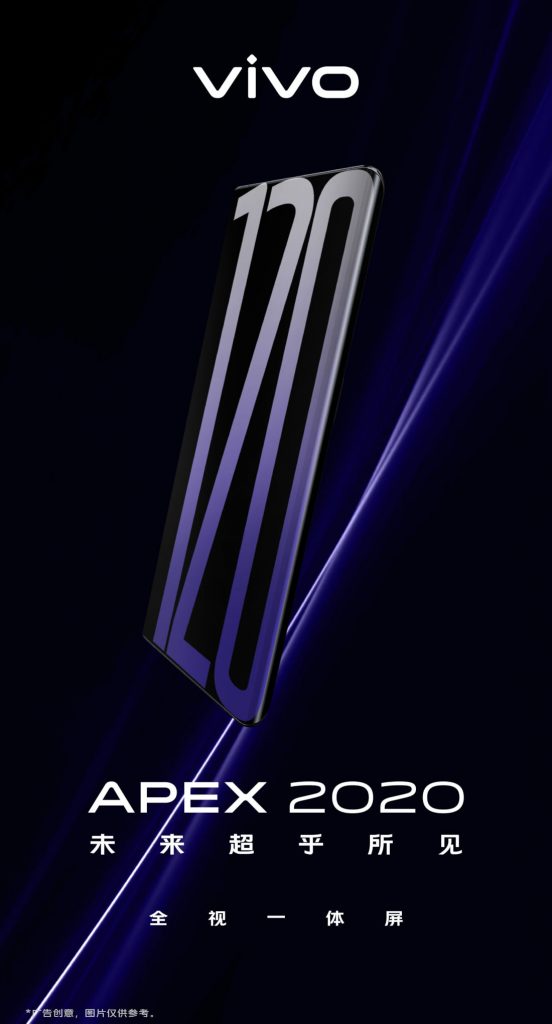 Vivo has released a first teaser of the APEX 2020 smartphone on Weibo that shows the curved screen side and the number "120" which could be a 120Hz refresh rate display. The company has also shared another image showing the rear side of the phone with a periscope zoom camera for loss-less zoom.
The company has also said that the upcoming APEX 2020 represents Vivo's prediction and layout of mobile phone development and technological innovation in 2020.
As of now, there are no details about the Vivo APEX 2020 phone's specifications and features. As per the previous reports, this phone will come with a bezel-less design and apparently a super-high screen-to-body ratio. The handset will have a curved display with no hardware buttons & no ports.
It is also expected to feature under-screen front camera, ultra-fast charging and lots more technological innovations. We should know more details about the phone later this week.
TAGS: Best Samsung Mobiles | Best Huawei Mobiles | Best Moto Mobiles | Best Sony Mobiles | Best Nokia Mobiles | Best Apple iPhones | Best OnePlus Mobiles | Best Xiaomi Mobiles | Best Vivo Mobiles | Best Realme Mobiles | Best Honor Mobiles | Best LG Mobiles | Best Asus Mobiles | Best Oppo Mobiles
---
You Might Like This Video
For the Latest Vivo Mobiles Specifications, upcoming mobiles news, tech news, reviews and more, check out chiptrolls.com and follow Chiptroll's on Facebook.
---
---